A Day at the Beach
In 1923, Ora Higgins, wife to Ed Higgins, proprietor of the seaside Higgins Beach Inn in Scarborough, Maine, chopped up meaty, fresh-caught quahog clams, mixed them in their own juice, added bread crumbs, egg and special spices, and then fried them up in pure shortening, an ocean delicacy was born. Ora's clam cakes quickly became famous among summer visitors from Boston, Philadelphia, and beyond.
Ed and Ora brought their special recipe up the road to the Conora Restaurant in the 1940s. Clam cakes remained a menu standby when their daughter, Constance, and son-in-law, Lawrence Harmon, took over the restaurant. Their daughter, Jean, grew up eating, cooking, and serving up Granda Higgins' clam cakes at her parent's restaurant. In 1978, it was Jean Harmon who captured the fresh, hand-harvested flavor for everyone to enjoy in the first frozen Harmon's Clam Cakes. When asked what makes Harmon's Clam Cakes so tasty, Jean's reply is always the same: "It's the fresh clams!"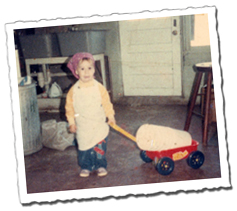 A 4th-generation Harmon, hard at work.
"We start 'em young in Maine."

Steve Liautaud,
Owner of Harmon's
Today, Harmon's Clam Cakes, one of Maine's oldest brands, is owned and operated by Steve Liautaud, a restaurateur from the Midwest, who discovered Harmon's Clam Cakes on his own day at the beach. On a cup of coffee and a handshake, Steve took over this prized family business and proudly carries on the Harmon's tradition.
In fact, Steve is so proud of Harmon's Clam Cakes, he entered them into the

renowned Newport Chowder Contest to determine once and for all whose clam cakes are best on the East Coast. And two years in a row, Harmon's took the honor as Best Clam Cakes!
What began as a day at the beach nearly 80 years ago has become a New England tradition called Harmon's Clam Cakes. Try them today and discover for yourself why Harmon's is the original, authentic, best clam cake in New England!